Brianna and I went into the Dollar Tree and she saw a stuffed monkey. This was in November and seemed innocent enough at the time. She really wanted the Monkey and it was just a Dollar so I bought it. Well two days later she has lost it and is DEVASTATED, I mean tears and cries and on the floor upset. We survived that great loss though. Maybe a week later we go in again (I admit it I am a dollar store junkie) and she spots another monkey so I bought it because I remember how much she loved the first one. The first one was purple and this one is blue. Brianna now is mentioning how much she wants a pink one.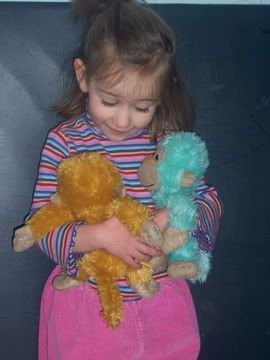 Now if you ever go to the Dollar Tree you really don't know what stuffies they will have. Bears are usually a given but monkeys, especially 8" pot bellied monkeys are not as prevalent. The beginning of December I spot a brown one and buy that too. Now Brianna is aware of Christmas and its proximity so she announces that Santa will bring her a pink Monkey.
I go back mid-December and there are no more pot bellied monkeys. Not blue, not purple and especially not pink ones. Brianna is telling everyone about how Santa is bringing her one and I am starting to panic. I am asking everyone I can to look for one if they go into a Dollar Tree. I ask my WNY Mommies friends, I ask my other on line groups to keep an eye out for them. I ask out of state relatives and friends. NOTHING!!!!
Now it is almost Christmas and I am now going to the Dollar Stores again because she is so sure she is getting this stupid pink monkey. It is the only thing she is asking for. I am frantic trying to find it. I am digging through the stuffed animal bins looking for it. The clerks are telling me I am brave, they wont even do that. I am finding valentine toys, but no pink pot bellied monkeys.
I went into one store where some shelves were empty from all the Christmas shopping. Finally I go into one last store and I find one brown pot bellied monkey and two pink dogs that looked kind of close to the monkey. So I bought them all. I wrapped them up (okay I put them in a gift bag after all that shopping I took the easy way out), and put them under the tree.
Christmas morning comes and Brianna is so excited to see her stocking.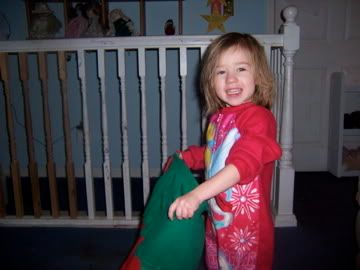 She unwraps gifts and announces that Santa did bring the monkey and she couldn't wait to unwrap it. She loved all the coloring books and crayons that Santa left but started to ask where her monkey was.
Then the kids notice the tree has gifts under it too.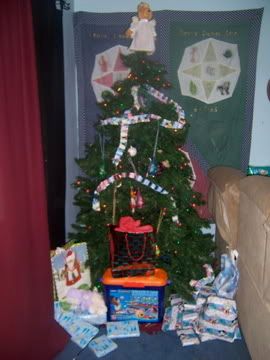 Brianna runs to the gift bag opens it up hugs the pink doggie and says that Santa did indeed bring her pink monkey and I knew all that running around and digging through bins of stuffies was worth it. It doesn't matter that it really is a doggie. In her eyes it is the pink monkey that she wanted.